Products
Guitar Master Sweeper
Android, Windows, Mac OS X, Jamtracks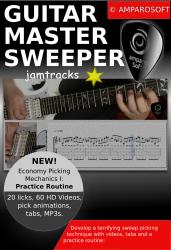 Develop a terrifying sweep picking technique with videos, tabs and a practice routine:
This is a new and systematic approach to sweep picking. It will focus on the right hand and its weaknesses when it comes to sweeping. I'm sure most of you have tried to learn to sweep pick at one point or another in your development as a guitarist, and there certainly are many players who are masters of this technique. This course is for those who are in need of extra help with the technique...
---
Blues Guitar Lead Concepts/Blues Guitar Soloist
Android, Windows, Mac OS X, Jamtracks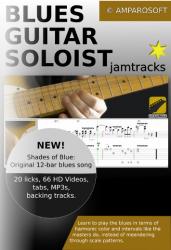 Ever ask another guitarist how to solo over a I-IV-V blues progression? Nine times out of ten, you'll be directed to practice a minor-pentatonic box scale. Listen carefully to great blues music, and you'll hear a secret: It's intervals, not scale patterns, that make the magic happen. In this app you'll learn to play in terms of harmonic color and intervals, instead of meandering through scale patterns, in the context of a full original 12-bar blues based on the styles of various blues masters, like B.B King, Buddy Guy or SRV, among others with amazing high quality video and audio in sync with the tab.
With high quality video and audio content you soon will be learning a full 12-bar-blues song, lick by lick and practicing with the included metronome or even cooler: with backing tracks!
---
Creative Rhythm Metronome for Android

Creative Metromone is a quality tool that every serious musician must have. It's a 600 bpm accurate stereo metronome with advanced rhythmic capabilities.
Carefully designed to be simple yet powerful, will make you explore your practice in imaginative ways. Learn how to practice, master the rhythm of short complex sections, use it as a simple accompaniment or even make it a compositional aid tool.